2016 Supercar Sunday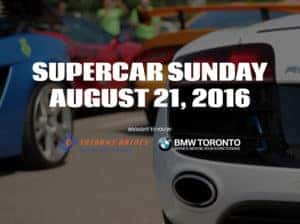 Come out and join us Sunday August, 21st for the second inaugural Supercar Sunday! Brought to you by Saturns Drives and BMW Toronto, Supercar Sunday will be featuing over 100 stunning vehicles from brands that include Lamborghini, Ferrari, McLaren, Aston Martin, Alfa Romeo, Porsche, Lotus, and many more!
All proceeds support Women's College Hospital's (WCH) Orthopedic Surgery Program, which specializes in treating both amateur and professional athletes for sports-related injuries.
The day will kick-off at BMW Toronto with a drivers parade around the city. The parade will end back at BMW Toronto's headquarters located at 11 Sunlight Park Road where there will be food, refreshments, photo opportunities, a VIP lounge, and lots of family-friendly activities!
We are also very excited to announce we'll be having a number of professional athletes from WCH's Orthopedic Surgery Program in attendance! WCH provides care to professional and collegiate athletes from the University of Toronto Varsity Blues, National Ballet of Canada, Toronto Maple Leafs, Toronto FC, and Toronto Blue Jays.
EVENT DETAILS
Sunday August 21, 2016
Location: BMW Toronto (11 Sunlight Park Road, Toronto ON)
Time: 11AM to 2PM
To Purchase Tickets Click Here
To View Event Website Click Here
For inquiries or further information: info@supercarsunday.ca