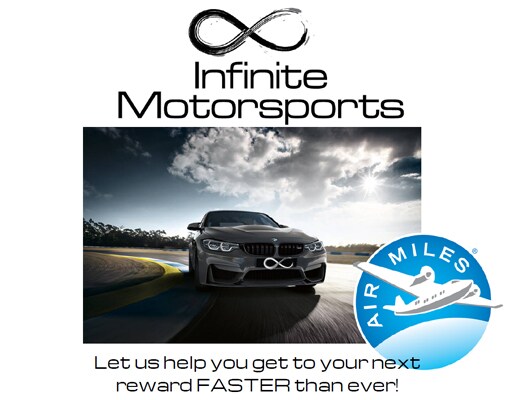 Come join us for a fun day of High-Performance Driving at Canadian Tire Motorsport Park/Mosport, North America's fastest race track. Experienced driving coaches will be there to ensure that you have a safe and exciting day while you improve your skills behind the wheel and explore the limits of your vehicle.
There will be three group designations: Novice, Intermediate and Advanced. Each run group will be on track for approximately 20-30 minute sessions (time will depend on number of students registered.) We use point-by passing rules for each run group. Level of experience determines your run group (novice, intermediate and advanced) as well as passing zones.
What sets us apart from other organizations? Not only do we offer competitive pricing and discounts for multiple days purchased, a fun and safe learning/lapping environment and skilled coaches included for the day… We now offer AIR MILES® Rewards for every lapping day you attend! Let us help you get to your next reward FASTER than ever!
Our lapping days are open to all makes and models of car and lapping experience. For those who have never driven their car on a race track before, we provide you with in-class learning and in-car coaches to help you step out of that comfort zone. We're more than happy to introduce you to your new passion!
Always striving to be #infinitelybetter, we pride ourselves on our commitment to provide an experience based on what you are looking for; whether this is your first time or your fiftieth.
Lap. Fuel. Repeat.
2019 EVENT DATES:
1. Thursday May 2nd, 2019
2. Friday July 19, 2019
3. Wednesday August 14th, 2019
4. Friday October 11th , 2019
Road Trip to Watkins Glen International Raceway: June 2nd - 4th, 2019
Event Details:
Registration open from 7:45 am – 8:30 am
Mandatory driver's meeting at 8:30 am SHARP
Track sessions will start at 9 am, close for lunch at 12:30 pm, re-open at 1:30 pm until 5:00 pm
These events are RAIN OR SHINE
Helmets are required for your safety
Mandatory classroom session for Novice drivers at 9 am, Intermediate Group is also welcome to join
In-car coaching for Novice and Intermediate drivers included in your event fee for the entire day
Lunch is included in your event fee. Additional lunch guest $25 each.